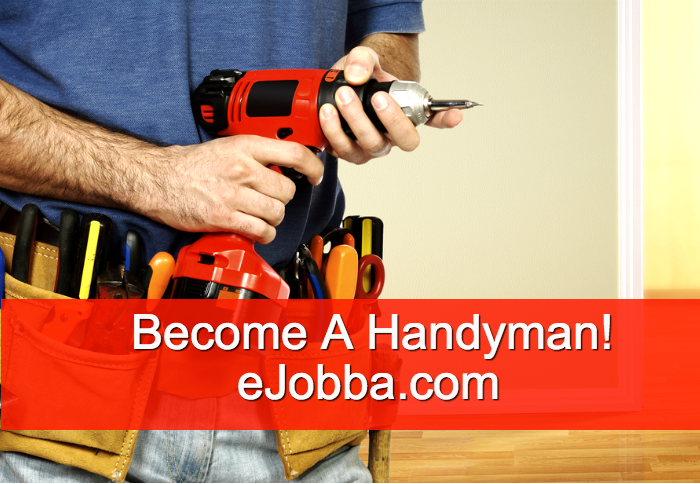 Becoming a Handyman is a Good Money Making Opportunity
Becoming a handyman could be a phenomenal opportunity to start up a small business. Here are some tips on how to get started, and if you need work now, join up with us and start bidding on jobs today in your area! 
As we know, American homes are getting older and as assessed, the business for handyman services is expanding at about 4% yearly. Start-up expenses are low and minimal running expenses but with high benefit potential. Here we address some inquiries on how to start a handyman business.
What are the things I need in becoming a handyman?
You need enough knowledge and some experience with home repair and maintenance. Below are some projects typically required by homeowners done for them by a handyman:
Faucet and toilet repair

Fix windows & hanging shelves
Install and repair light fixtures
Gutter repair
Fence and gate repairs
Painting
Weather-proofing
Damp-proofing
Sanding and maintaining wooden floors, windows and decks
Install curtain rods
Door and lock repair and etc…
A van or trailer is needed for transporting equipment. You also need a good set of tools. For specific jobs, there are specialty tools for lease. Being reliable and giving your commitment to quality workmanship will ensure a solid customer base. 
Are there any legal requirements for becoming a handyman?
Handymen need to get licenses for most states. Every state has different licensing requirements and different type of handyman jobs demand different categories of licensing. To find out the type of handyman license you need contact your State Contractor Licensing Board. It also advisable to obtain insurance to protect your small business against liability.
Where can I find handyman jobs?
Once you have your first set of customers, you will find that word of mouth is a big help for you to establish a solid customer base. In order to get your first handyman jobs you can start marketing by using some affordable advertising tools. You can hand out business cards to as many contacts as possible. You can have a flyer created to advertise your services. Distribute these to potential customers. Another effective marketing tool are door hangers. They are cost effective and can directly reach your target market. Car door magnets and lawn signs are also cheap but good advertising items for your handyman service. You can go online and search for handyman databases where you can list your services. Craigslist is a good option for online advertising and it's free. Last is you can also advertise in your local paper.
What sort of handyman rates can I earn?
You rates should be competitive for your area. Research local handyman rates. You can charge by the hour or by the job. Initially it may be better to charge an hourly rate until you have a clear idea of how long a particular project takes.
If you enjoy do-it-yourself and are prepared to put in the hours, becoming a handyman can be a profitable small business opportunity. Find out much more about starting your own handyman business by doing research or you can test the waters by becoming a worker on Bid On Work.com and bid on jobs in your area!